INSTRUCTION - instructors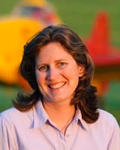 Sarah Kelly Arnold - CFIG
Sarah was raised on a farm near Lumby, British Columbia. Surrounded by the freshness of nature she grew up splashing in creeks, climbing trees, and camping under the limitless night sky. Special family friend "Uncle" LeRoy took a mentoring interest in Sarah. He taught her how to make a whistle, deliver calves, and care for machinery. At age 13, Uncle Leroy began teaching her to fly. Sarah was instantly hooked. Just as she had learned to operate farm machinery, Sarah quickly mastered the basics of flight and soloed in an ultralight aircraft. Working in a bakery throughout her teen years, Sarah earned enough to buy her first car, pay for flying lessons, and purchase her share in a 1948 Piper Vagabond. Sarah went on to obtain her Canadian private pilot certificate on her 17th birthday. An instrument rating, Airframe & Powerplant mechanic, and commercial pilot certificate soon followed.
In 2001, Sarah accepted an accounting position with a Tennessee-based non-profit for troubled boys. In 2003, this intrepid young woman returned home to Canada and retrieved her beloved Vagabond. She climbed into the small 65 hp two-place airplane, and flew solo across the United States, all the way back to southeastern Tennessee. Sarah wasn't in the South long before she found nearby Chilhowee Gliderport. She began towing gliders aloft and was quickly hooked on this silent form of free flight. After negotiating a trade of towing services for glider time, Sarah was able to add glider category and an instructor certificate to her growing list of pilot qualifications. The gliderport owners asked her to become manager and then a few months later financed the assets to her. At age 24, Sarah found herself the youngest gliderport owner/operator in the country, perhaps the world.
Sarah's passion for sailplane racing began with her first long distance soaring flights in April & May of 2005. A few weeks later, on June 16th she flew 296 miles over an out and return course in New Mexico setting multiple state and National feminine distance records. In February 2008 she soared to 30,829 feet over Boulder, Colorado completing Fédération Aéronautique Internationale diamond badge #985. March 24, 2011, Sarah and student Dianna Fleming set 11 state and 3 national feminine soaring records flying a training glider over 200 miles along mountain ridges. Through her own determination and tenacity, Sarah successfully cultivated her soaring skills, and has earned her position on the US Soaring Team.
In May 2011, Sarah became the US Sports Class National Champion, securing her place on the US Team. Sarah will be the first woman in history to represent the USA in world soaring competition.She is unafraid to dream and courageous enough to believe in herself.